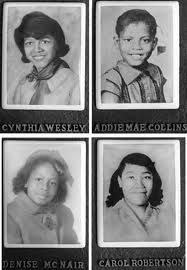 Fifty years ago today at about 10:22am, the 16th Street Baptist Church in Birmingham, Alabama was bombed by four active members of the
Klu Klux Klan
, an American terrorist organization. Their names were
Robert "Dynamite Bob" Chambliss
,
Herman Cash
,
Thomas Blanton and Bobby Cherry
. They belonged to a splinter group of the KKK of about a dozen members called
The Cahaba Boys
that met every Thursday night near the Cahaba river to drink beer and gripe about ridding the south of Catholics, Jews and black people. Why did they create a splinter group? Because they didn't feel that the Klan was radical enough. This, at a time when the city of Birmingham was called
Bombingham
(by us, of course -- because it was happening
to
us) because since the mid 1940s, so many homes and churches in the African-American community were getting blown up on a regular basis with no federal government intervention whatsoever. And of course, all of the bombings were officially unsolved cases.
Very few people know that
Condoleezza Rice
-- the first black woman to serve as the United States' national security adviser, as well as the first black woman to serve as U.S. Secretary of State (2005 - 2009) -- could very easily have been one of those little girls.
A native of Birmingham, Condi was an only child to a teacher and a Presbyterian minister, both of whom were well-educated in historically black colleges, staunchly middle class and Southern natives, having survived the Great Depression and some of the worst racism this country had to offer. They both knew the importance of a formal education and constantly stressed this to their child. Initially home schooled (are you surprised by that one?) Condi's mother went so far as to
enroll her in the first grade
when she was 3 years old. She could read music before she could read.
Here's a picture of
the future Secretary of State
with her mother Angelena, at home in Birmingham, Alabama in the 1950s.
She was 8 years old
when her playmate Denise McNair -- 11 years old at the time -- was killed in the bombing. Denise attended preschool at Condi's father's church, where he was a pastor. When Condi was 11, her family relocated to another city in Alabama and shortly thereafter, to Denver, Colorado and then finally to Palo Alto, California. And
the rest is history
.
I wonder: If those southern white terrorists knew that bombing that church would have caused the passage of the
Civil Rights Act of 1964
, would they have done it anyway?
Here's a 1997 interview of filmmaker Spike Lee for
4 Little Girls --
his first feature length documentary. Interestingly, it was an article he read in the New York Times Magazine in 1983 when he was a first year film student at NYU that prompted him to make this movie. His thoughts about
how the movie got made
are also very telling.
Documentaries are so important. These girls would be lost to history books if Mr. Lee hadn't made this one.
A few days ago,
the Congressional Gold Medal
was given to the families of the four girls -- the highest honor a civilian can receive. Somehow all of that rings hollow, especially in light of the fact that Carolyn Bryant -- the woman who pointed out
Emmett Till
to her husband and brother-in-law from the backseat of a sedan -- is still alive and well at 74 years of age and relaxing comfortably with her loving family in Greenville, Mississippi. She's an accessory to his murder. Why has she never been prosecuted? Why isn't she in jail?
As if on cue, Congressman John Boehner wept openly during that Congressional Gold Medal ceremony. When they prosecute
Carolyn Bryant
and many others like her for their crimes against African-Americans during the civil rights movement, I'll believe the sincerity of his tears.