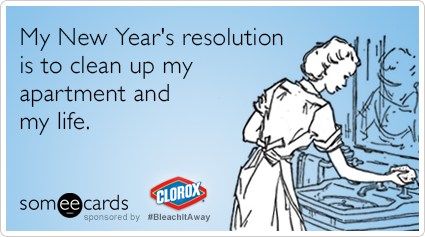 I'm goal oriented and I work to keep my priorities in order so my only real New Year's resolution is the one I tell myself everyday --
don't give up
. Still and all, that monthly assessment is in order. Here's what shook loose, off the cuff.
I have to physically wear myself out everyday or I'll go nuts. It can't be any one thing, with the exception of boxing, which makes me very happy. ClassPass could be the answer to my prayers.
I've made a lot of progress physically but I hit a wall after Thanksgiving. To climb over it, I'm going to combine RealAge and the Eat Clean Program as a birthday present to myself.
If I don't practice guitar every single day for a few hours, I'll forget everything I've learned in a matter of minutes. At least, that's the way it feels, so far. I can't even talk about my banjo. I'm getting a grip on all this by taking voice/piano/theory lessons with Nancy Marano, starting at the end of the month.

There are some habits I'm glad I never picked up, like smoking cigarettes (or anything else), recreational drugs or drinking copious amounts of alcohol. There are other habits I'm glad I started way early, like slathering my entire body with sunscreen and moisturizer everyday. Monthly spa visits and a gym membership didn't hurt, either. Now it's time to surrender the rest of whatever it is that I'm holding onto for dear life -- but for the moment, I'll start with processed sugar, salt and corn, soy and wheat gluten.
Starting today, I've got 21 days to eat clean. Let the games begin.