someone sent me a little note and a link to let me know that i'm in artnet, thanks to a shutterbug at franco mondini-ruiz' book signing party for "high pink" at bergdorf-goodman. franco was so sweet to invite me to be a hostess. what a lovely party that was! very highbrow/lowbrow. lots of champagne in dainty little teacups. roasted peanuts in the shell in little baskets. franco's ceramic art and little paintings everywhere. and the food was such a
hoot
-- lots of mini chili dogs and grilled cheese sandwiches and bite sized tacos. dee-
lish
. and i love it that his mother signed the books, too.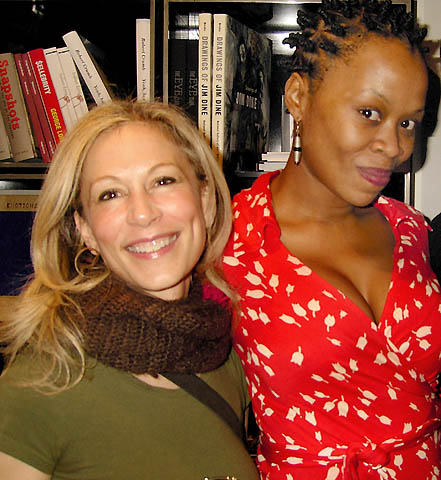 this is me -- "harlem performance diva" (gee, i guess that's about right) -- with collector lesley horowitz, who was a real doll. *sigh* God, i love that dress... of course, ricky recognized it as a dvf original immediately.
there's probably more pictures floating around out there somewhere. i'd love to see them.