Woodshed: To lock oneself away with a musical instrument and practice, either a particular piece or in general, until the player has improved greatly or can perfectly play the piece he has been practicing.
Today's blizzard hit hard in the wee hours of the morning and won't let up until later this evening. What with all the delicious leftover eats from yesterday's SuperBowl and the drinking bonanza that went with it, it's the perfect time to call in sick and work from home if you've got it like that. Folks must have been thinking ahead this time around. The streets aren't as busy as they usually are.
I've got cable tv, Netflix, Klondike bars and bacon. I've got Winsor Pilates DVDs and Greens Plus. I've got a retooled acoustic baby Taylor, a five string banjo on permanent loan, some pretty cool electric guitars and a
Pignose
amp. I've got a humidifier that's on blast -- and thankfully, so is the heat. I've got a gigantic pot of the most delicious lamb stew that I made last night, while MPB was yelling at the tv during the game. I stocked MPB's bar with absolutely every varietal of
Trader Joe's three buck chuck
and then some. I even have lamb riblets that I'm going to pan sear for dinner tonight.
I also have a voiceover audition today -- from home, thanks to
GarageBand
.
What I don't have is a good reason to go outside. When the snow day is this severe, it's time to stay home and woodshed. I'll start by digging into
Rocksmith
, which I totally love a lot because its hard
and
fun. I haven't touched it in
forever
. I have no idea why.
Another snowstorm of epic proportions is expected on Wednesday. Lucky me.
Before I disappear, here's something for all you guitar players: a 1964 performance of the song
Hey!
from "The Originator"
Bo Diddley
that includes his right hand lady
Ms. Norma-Jean Wofford
, otherwise known as The Dutchess -- playing rhythm and lead guitar and keeping in step with the back up vocalists, and in a gown and heels no less.
Although she played guitar and gigged here and there later in life, her career came to a screeching halt when she left the band in 1966, got married and moved to Florida to raise a family.
Here's a photo of Bo Diddley, The Dutchess and percussionist
Jerome Green
.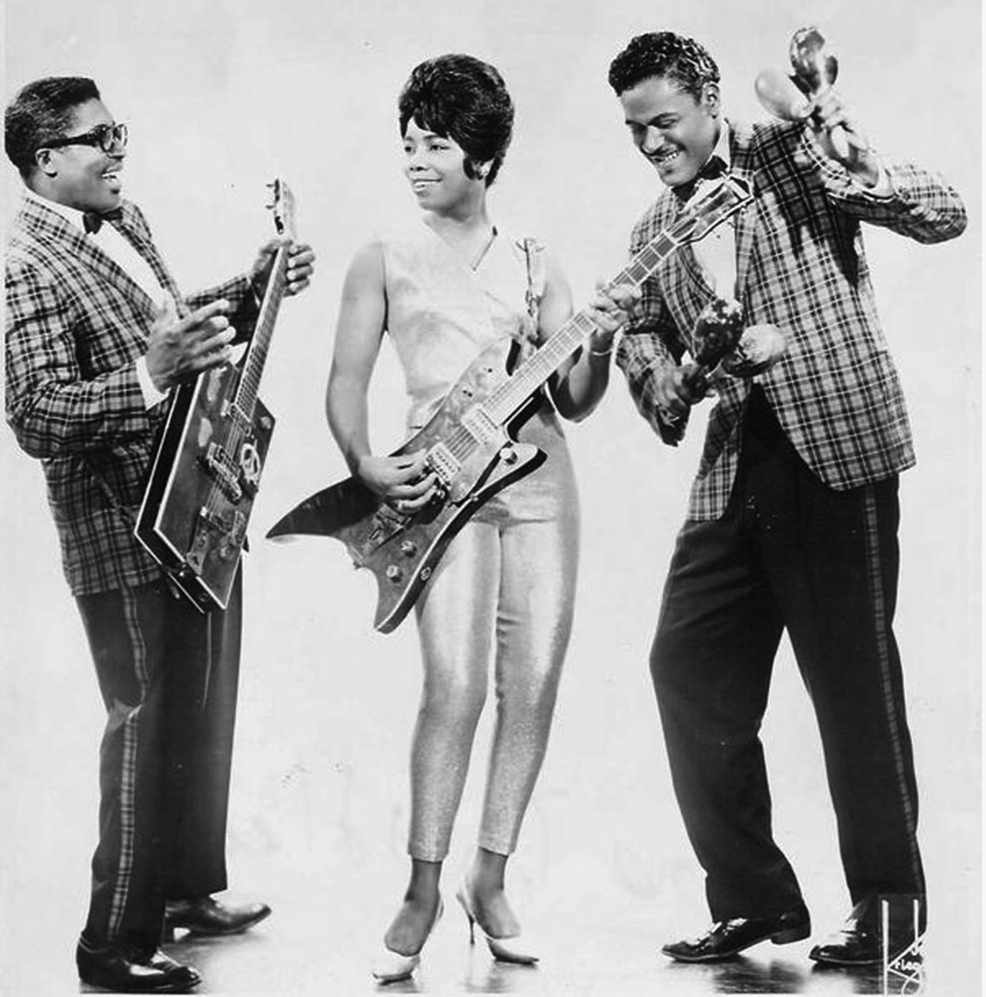 I think she's stunning, a bonafide trailblazer (why don't any guitar magazines or guitar lists ever mention her?) and most definitely an inspiration for me as a nascent guitarist.